Memorex 8GB Mega TravelDrive reviewed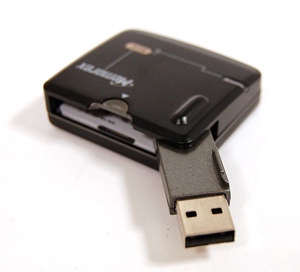 The Memorex's selling point is that it's the smallest 8GB USB 2.0 drive on the market, being squarer, and therefore slightly smaller, than the Iomega and Sony drives. Not surprisingly then it's also slightly lighter at 39.7g, a full 10.3g less than the Iomega.

The black housing is smart and the USB plug lifts out from the body via a hook at the centre, which is designed so you can easily get your finger underneath. The smooth housing is spoilt by a lump on one side, which presumably houses the hinge. When plugged in a light flashes blue to indicate hard drive activity. We love a bit of blue lights on our tech gear so thumbs up to Memorex for that. The chassis feels reasonably strong, though not quite as rigid as the Sony and Iomega's housings. I'd encourage use of the supplied pouch with belt buckle.
Via .